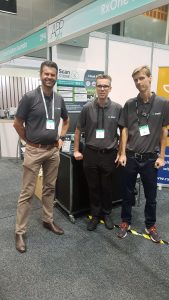 Success! Our first time exhibiting at a trade show went amazingly well. Thank you to everyone who ventured over to our humble shared stand at the quieter end of the exhibition centre. We're glad you enjoyed the live demo and recognised the value of ScanStoreRx.  It's great to hear that so many dispense providers share our vision and are keen to integrate our product with their systems.
A big thanks to RxOne for being kind enough to share their stand with us! We enjoyed getting to know many people within the industry and having a few drinks together.
We look forward to delivering this product to all interested parties and seeing the excellent results of a smart workflow.
APP Conference 2017
Australian Pharmacy Professional Conference & Trade Exhibition
Gold Coast Convention & Exhibition Centre
9-12 March 2017